Archives by date
You are browsing the site archives by date.
Dr. Shane Ardo, Assistant Professor of the Department of Chemistry at University of California, Irvine, will join us with a keynote speech on solar photochemistry.
Dr. Paul Kenis, Department Head of Chemical & Biomolecular Engineering of University of Illinois at Urbana-Champaigns, will deliver our second keynote speech on microchemical systems.
In Research Day 2016 held last year, undergraduate UBC Engineering design teams like the Chem-E-Car displayed their work through posters and presentations.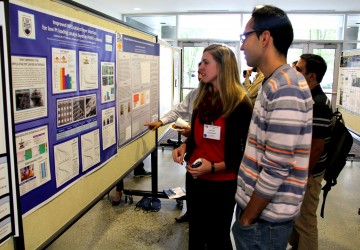 Come learn about the innovative research being performed by members of UBC Applied Science.
Zoe Wai-Man Lam (above) won the UBC 3-Minute-Thesis competition and ranked second in the global, U21 event. Compete this year by attending 3MT heat during Research Day 2017!